WELCOME TO COACHMAN'S INN WARWICK
Relaxing Pleasure
On the Southern Darling Downs, by the banks of the Condamine River, lies the beautiful country town of Warwick. Steeped in history, Warwick is traditionally recognised as the 'Rose and Rodeo City'. Discover our peaceful, stylish Warick motel.
Coachman's Inn Warwick
offers a peaceful and stylish option for those looking for comfortable, well appointed and quiet rooms.
ADVANTAGES
BOOKING DIRECTLY
We are all looking for ways of minimising our costs and lets face it, when you travel it is very easy to spend more than you intended.
Let us help you to #BookDirect and
Save on hidden booking fees

Have the flexibility to change your booking up to 24 hrs prior, without penalty

Get the best available house price "Guaranteed"

Speak with an onsite representative that knows and understands the property

Have the option to book online with our own online booking button

Get the best room in the house for your stay

Keep your money in Australia by not sending huge commissions offshore
"Very nice rooms, large and spacious. Staff are very friendly and helpful."
JOZEF OLSZEWSKI
Chromecast
In addition to free WIFI in our restaurant, bar and gallery areas, complimentary WIFI is  available in the comfort of your room.  Plus, we now have Chromecast in all rooms on the big screen Tv's.  That means no more straining your eyes looking at your phone.

We hope this makes your stay even more comfortable.
Congratulations to the gorgeous couple.
Josh, Hayley, their family and friends celebrated their nuptials with a wedding reception to remember.
We loved sharing your most important day with you.
xxx The Coachman's and Rupert's team.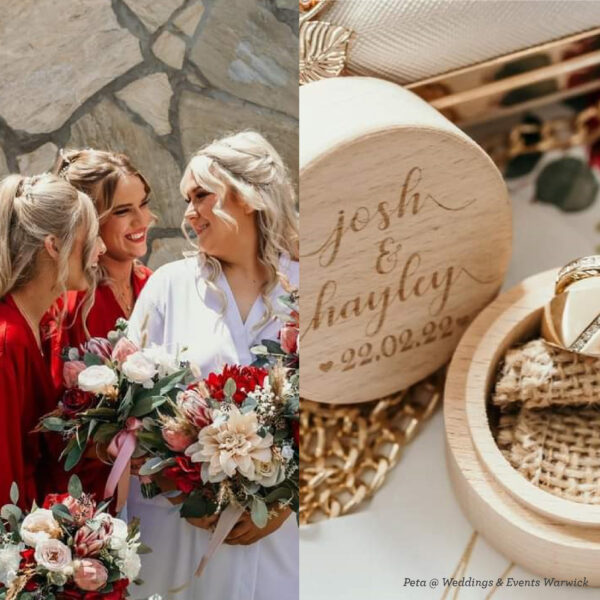 Ruperts Bar & Grill is our modern fully licensed restaurant and answers the question of "where to go for dinner when in Warwick?"
"Clean good size rooms.Enjoyed happy hour in the bar and
had two excellent meals in the restaurant."
RODERICK BELL